2018 World Wood Day in Myanmar


Theme:" Life"
The 2018 World Wood Day theme "Life" aims to bring up the importance of wood and the relationship between wood and human from different perspectives. The theme will explore the interrelationship between nature and culture that influence the way we use wood, and to demonstrate the role of wood and non-timber forest products in supporting our daily life. We hope that the theme can bring a broader perspective in learning about and enjoying wood for a sustainable future.
Programs
During the event from April 6-8, the event will have a series of programs including woodcarving, woodturning activities, folk art workshops, children's woodworking education, traditional wooden musical instrument performance, and wood culture documentary tour.
Date: April 6 (Fri) to 8 (Sun)
Venue: City Hall, Mandalay, Myanmar
Address: 26th St, Mandalay, Myanmar
Schedule: Download here
Overview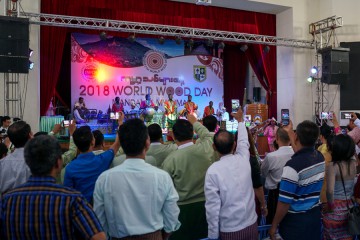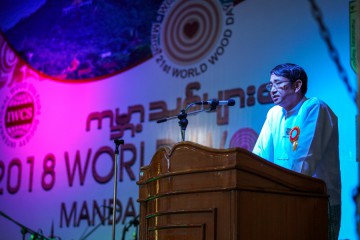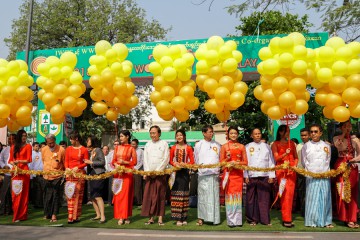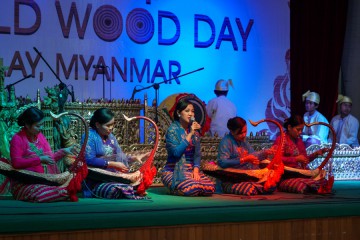 Opening Ceremony
On April 6th, the 2018 World Wood Day - Myanmar celebration successfully took place at the Mandalay City Hall. The event was co-organized by Mandalay Region Forest Products Merchants Association (MRFPMA) and the International Wood Culture Society (IWCS)
The opening ceremony began with a ribbon cutting by the Minister of ...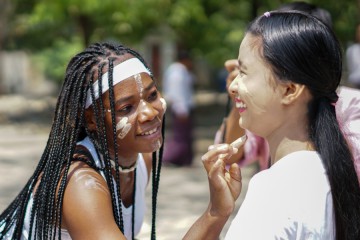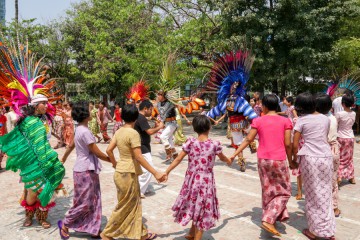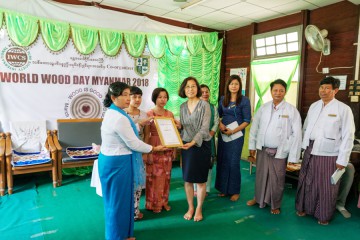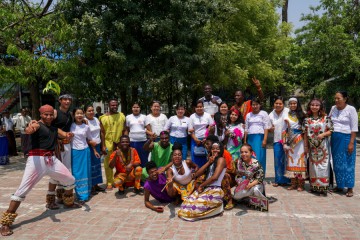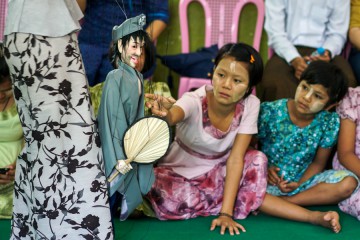 Charity Events
The Girl's Training School Mandalay is a welfare institution established for orphans. To encourage and cheer up the girls by the enjoyment of wood, the international guests attending the 2018 World Wood Day Myanmar event went to visit the school on April 4th. A variety of performances were given by musicians from Mexico and Cote...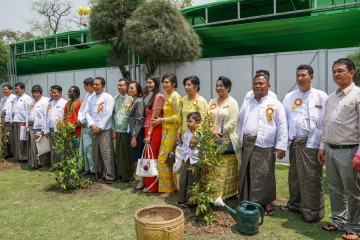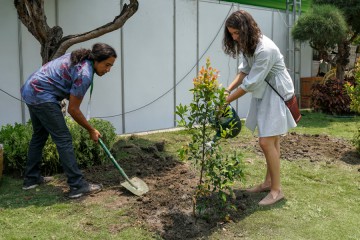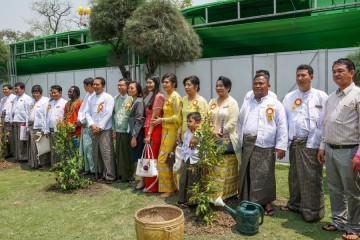 Tree Planting
Memorial saplings of Eugenia gifted by the International Wood Culture Society were planted at the small part at City Hall. Eugenia is a symbol of success in Myanmar and will also be a symbol of friendship and goodwill of the event for a greener future.
...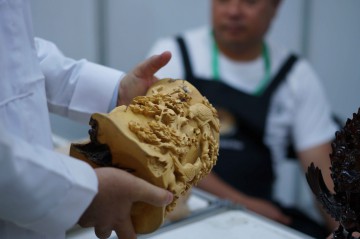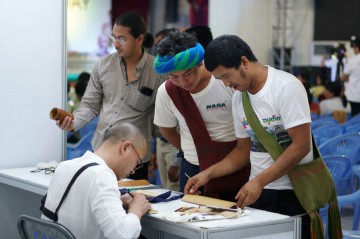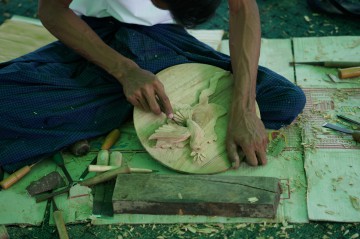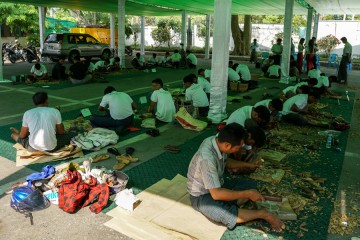 International Woodcarving Show
The Myanmar Woodcarving Competition was held in the City Hall of Mandalay from April 6 - 8. 26 local woodcarvers were invited to the competition to carve a square panel to interpret the theme "Life." The designs were as diverse as the rich culture of Myanmar, varying from nature, village life, festivals and personal experie...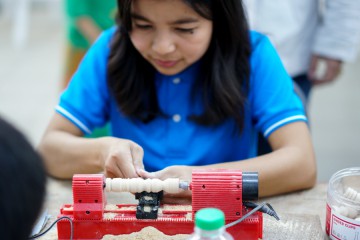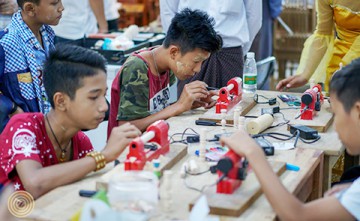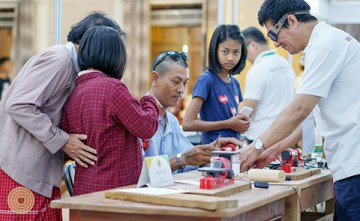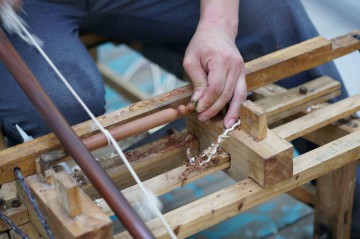 Woodturning Demonstration
The woodturning demonstration was held in City Hall, Mandalay, Myanmar on 6 - 8 April 2018. A Chinese traditional wooden lathe was presented by the intangible cultural heritage bearer Master Li Xuemin. He made some whistles and small gourds which were given out as souvenirs to the audience. Some mini-lathes were set up for children to experience...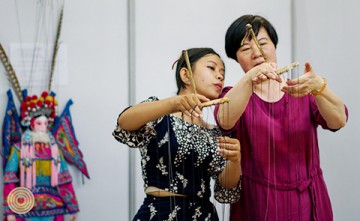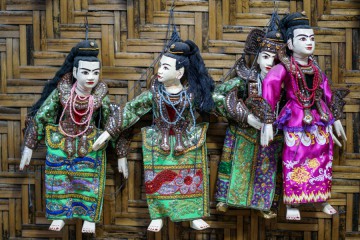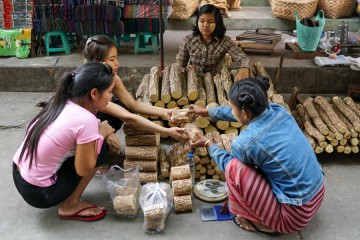 Folk Art Workshop
The Folk Art Workshop exhibited and held demonstrations of Myanmar traditional woodcarving of handicrafts, bamboo crafts, drums, lacquer wares, marionettes, birdhouses, bamboo bicycles and Thanaka (a natural cosmetic paste made from Thanaka wood). The international folk artists also brought Taishun puppets to demonstrate and offered chopsticks-m...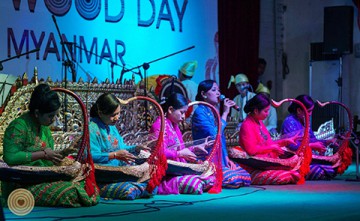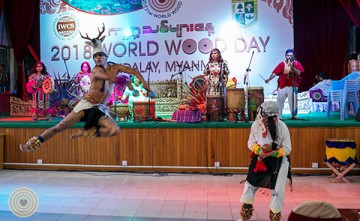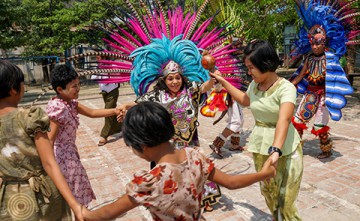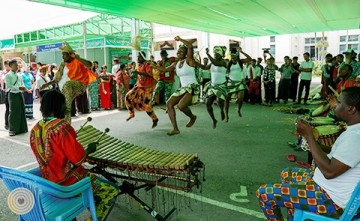 Music Festival
During the three-day World Wood Day Myanmar event, promoting Myanmar traditional performance art was one of the main focus. Myanmar traditional instrumental performances, traditional Myanmar opera, and dashing traditional cultural dances were entertaining at the event. Mezme of Mexico and Aaninka of Ivory Coast made a lasting impr...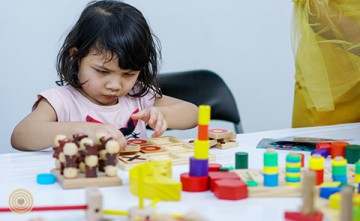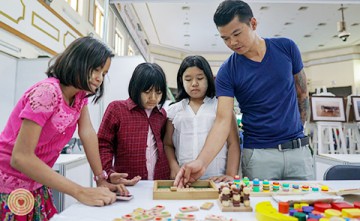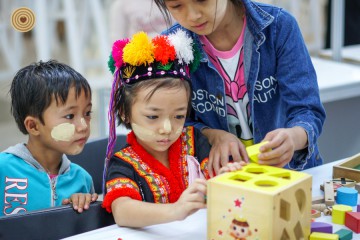 Children's Event
Toys have been used by teachers as concrete objects to teach subjects such as mechanics and architecture. Wooden toys have a long history around the world and have many advantages including durability, safety and being environmentally friendly. Dozens of wooden toys were donated by a Chinese wooden toy company for the local children to enjoy. Th...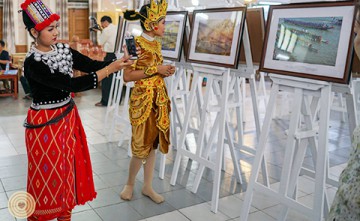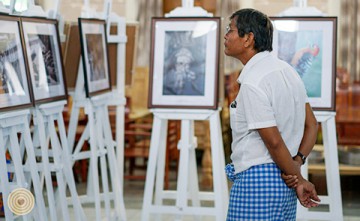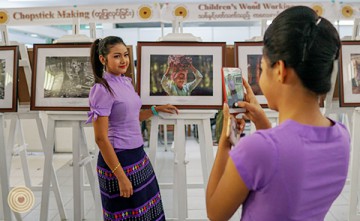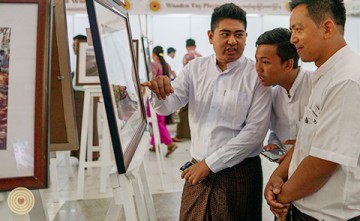 "Wood and Life" Photo Contest Exhibition
The photo exhibition presents 34 winning photos among People, Heritage, and Environment categories from the 2018 WOOD & LIFE Photo Contest. The photo contest began on November 20th 2017 and ended February 20th 2018, a total of 3 months duration. The goal is to best present the interrelationship between wood and culture through th...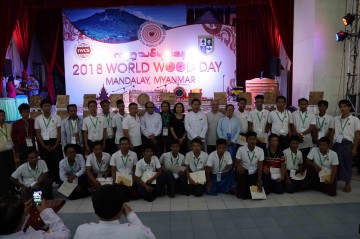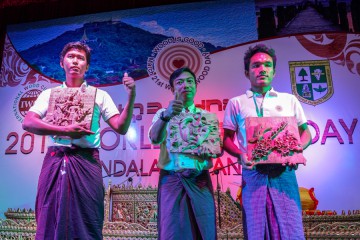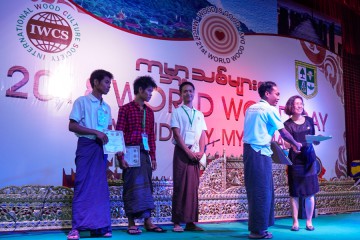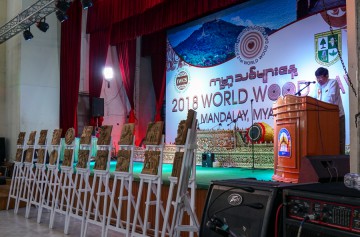 Closing Ceremony
The closing ceremony was held at the Mandalay City Hall in the afternoon of April 8. Musicians, woodcarvers, Chinese folk artists, local wooden artifact makers and furniture makers all contributed in making the programs fascinating during the three-day event. Traditional wooden music shows engaged a large group to join in and all enjoyed a wonde...