20 Mar, 2013
IBN TV
There are growing concerns that Tanzania's growing population poses great risks to the ecosystem and particularly threatens the sustainability of forests and water catchment areas as well as other resources that are not readily replaceable.
Tanzania Forest Service (TFS) via their Chief Executive Juma Mgoo expressed the concerns yesterday in Dar es Salaam at the opening of the first World Wood Day (21 October) which will be celebrated for the first time all over the world.
Mgoo said that wood resources all over the world, Tanzania inclusive, are facing many challenges which cause the scarcity of the product.
The forest sector condition is increasing at a very fast rate due to increase of demand from rising population and increased movement to the neighboring countries, macroeconomic changes, globalization and persistent reliance on biomass energy.
He moreover added that the current raw materials supply does not meet demand for both domestic and foreign markets of wood products, whereas recent estimates show that the total wood consumption in Tanzania is about 87 million cubic meters.
He added the annual growth is about 76 million cubic meters that makes an annual wood deficit of about 11 million cubic meters which means potential understanding in the context of forest resources investments.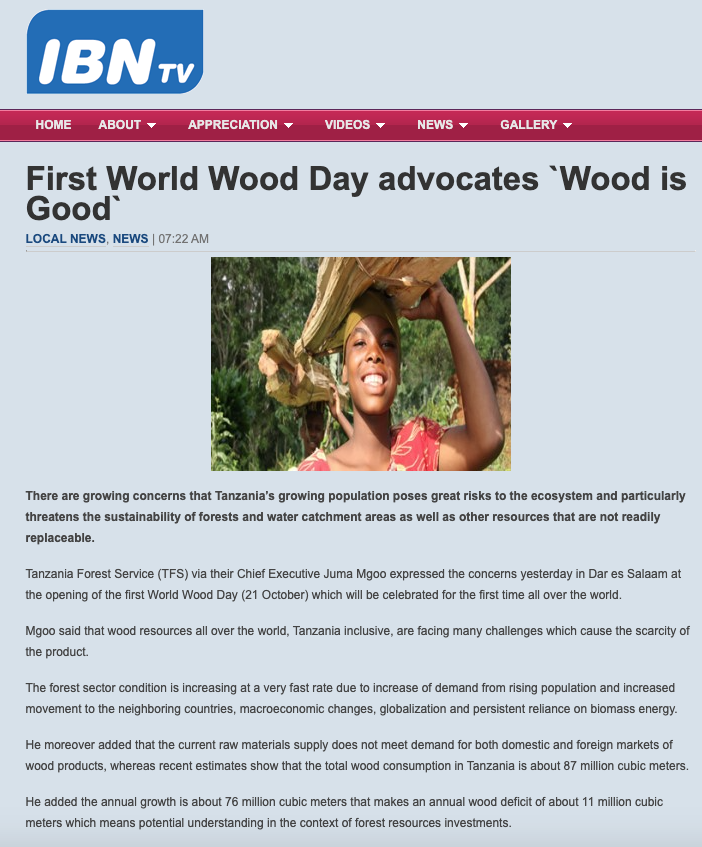 Mgoo said that while utilizing wood, communities need to be reminded to plant and replant trees for sustainability to ensure future access and to maintain a healthy environment that will in turn sustain the community.
According to Mgoo, the current estimates of wood per capita consumption is about 1.9 cubic meters, since majority of people live in rural areas and depend heavily on subsistence agriculture and forestry for their livelihood.
It is as such, evident that more forests resources will be subjected to increasingly more deforestation and wood utilization.
United Nations (UN) expert for forests and environment, Barik Kaale stressed that the proper utilization of forest resources may open up employment and also provides research ground.
The first world wood day has brought together about 30 African countries and others from Asia, Europe, and America. It began on March 19 and will reach its climax on 21st the officially designated and recognized International Day of Forests.
World Wood Day is celebrated on the same day as the International Day of Forests to raise public awareness of wood as a key role for a sustainable future. The idea for world wood day was first advocated in 2009 by International Wood Culture Society along with partners and friends.
Wood, an eco-friendly and renewable biomaterial from nature, plays a crucial role in the development of human civilization and environment. All are invited and encouraged to share their passion for wood and to acquire a more comprehensive knowledge on uses and sustainability to better put the core concept of "Wood is Good" into practice in our daily lives.
2013 World Wood Day has four woodcraft activities in Tanzania to held at the Karimjee Hall, Dar es Salaam,, Local Woodcarving Competition, African Woodcarving Show, International Woodcarving Show and Woodturning Show, to support this year's theme, "A Cultural Approach to Achieve Wood is Good."
Outstanding artisans from Tanzania and other African countries, plus woodcarving and woodturning artists from outside Africa are invited to perform and exchange their skills and creativity during the World Wood Day woodcraft event.
The four woodcraft activities that bring out the theme "Wood: Art, Joy, and Culture" will continue for two days and a half. Local and international woodcarvers and turners will be formally presenting their artwork to judges and audiences about their ideas for the creations at the end of the programme.
URL: http://www.ibn-tv.co.tz/2013/03/first-world-wood-day-advocates-wood-is-good/