2018 World Wood Day in Laos
The 2018 World Wood Day theme "Life" aims to bring up the importance of wood and the relationship between wood and human from different perspectives. The theme will explore the interrelationship between nature and culture that influence the way we use wood, and to demonstrate the role of wood and non-timber forest products in supporting our daily life. We hope that the theme can bring a broader perspective in learning about and enjoying wood for a sustainable future.
During the event from March 29 to April 1, a wood carving activity, folk art workshops, music festival, young adult furniture making and children's event will be held to show diverse ways of living in harmony with nature.
We welcome any parties to celebrate World Wood Day in your own way in response to this meaningful event.
Schedule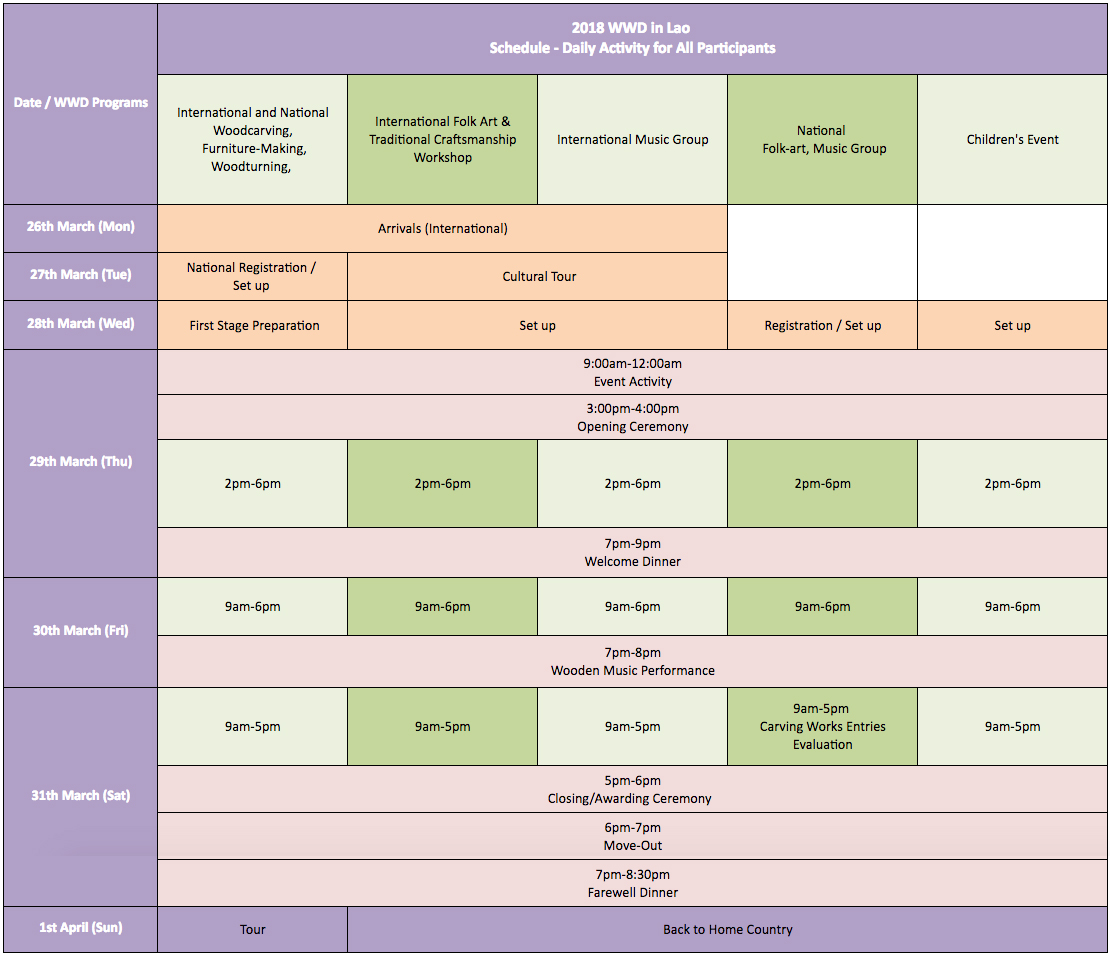 Program List
Woodcarving competition

The selected talented wood carver in Laos will bring their finished high quality works to the venue to show their skill and creativities. Professional team of judges will review all the works. Winner will be awarded to go to next year's World Wood Day.

Collaborative on-site wood carving

We expect to welcome about 20 local wood carvers and invited internationals to use their native creativity to express their own understanding of the theme-LIFE. For this program we will provide a wooden slab and focus on relief wood carving. Each group will be joined by 3~4 artisans as a group, through collaboration, it allows participants mutually share their expertise and experience wood culture with each other.

International Young Adult Furniture Making Invitational

This program will invite talented international young adults and local young furniture makers to form a team. The international team members include the World Skill winner and champion of Chinese National College Student Woodworking Competition. The team leader and members will showcase their talent in designing and creating wooden items in collaborative spheres. Techniques are exchanged and learned, appreciation and understanding of different cultures and influences are fast tracked and strong bonds are formed amongst the Invitees.

Woodturning Demonstration

Woodturning Demonstration invites experienced turners from Australia, America and local turners to demonstrate on site. Besides the modern turning, the audience can also see traditional Chinese man-powered lathe and traditional Morocco foot turning.

Folk Art Workshop

Wood- related folk art is an art of everyday living. It is both functional and aesthetic. It is a combination of craftsmanship and creativity. It can be traditional in skill but dynamic in style and presentation. It is also an expression of culture which connects different groups and regions.

This program aims to introduce different folk arts and traditional craftsmanship in Laos. We hope that the Folk Art Workshop will offer a spectacular first- hand experience for audience to learn the beauty, the craftsmanship and the culture of wood and forest products, and help draw awareness of the public the unique culture identity of Laos to the world.

Music Festival

Music is a cross-cultural and artistic language which creates emotional and spiritual connections. This program will be featuring musicians from different continents to perform, share their passions with traditional wooden music instrument. The invited group includes the musicians from South America, Africa and Asia. With around 40 musicians both international and local groups, we believe it will take the audience on a musical journey of culture, legend and heritage.

Children's wood education

Wood is playing a prominent role for our future. It is our duty to teach the young generation the responsible wood use. Therefore, wood education classes together with specially designed interactive woodworking activity and wooden toy from China, will be given to introduce the characteristics and importance of this eco-friendly bio-material. Hands-on activities will be included so that young children can learn through senses of smell, touch and hearing. Woodworking demonstrations includes wooden sticks making and wooden doll turning.

"Wood and Life" Photo Contest Exhibition

As a reflection of the 2018 World Wood Day theme "Life," the contest is divided into three categories: People, Heritage, and Environment to further elaborate the importance of wood being a part of our lives. We hope to encourage people to pay closer attention to their surroundings.