Sign Up for Event
2018 World Wood Day in Cambodia is now open for application!
Interested parties who wish to be part of WWD teams in the following programs are welcome to submit your application form for review before the deadline stated below. No administration cost will be charged.
2018 World Wood Day International Woodcarving Show will take place from March 19-25. The focus of this year will be each artist's interpretation of the theme "Life". We encourage every participant to use native creativity to express their own understanding on a wood slab collaboratively joined by 3-5 wood carvers. IWCS is proud to present a series of woodcarving activities including wood slab sculpting collaboration, public presentations, sharing sessions and on-site exhibition at Angkor Wat, Cambodia. We expect to welcome 120 participants from 75 countries and regions to this program. Please join us for a very special week exploring diverse variety of woodcarving artistry and intercultural exchange.
Entry Qualifications and Regulations:

Open for artists around the world at all skill levels from beginner to the accomplished.
Applicants who are below 18 years of age shall not be accepted without the written consent of their parents or guardians.
Basic techniques to relief woodcarving is required.
Artists shall bring one completed art piece for onsite exhibition. The piece must be original and individual creation.

Submission Deadline: 31 st January 2018, PST Application Procedure:

The application shall be submitted via email. Please download the entry form on our website.
Fill out all fields in the form with the requested information in detail and provide photos of your previous works. Applications without complete information or the required documents will not be accepted. If you have not received a reply from the program coordinator within a week, please send inquiry to contact@worldwoodday.org immediately.
Applicants will be notified of the outcome of the selection by email.
Electronic submissions of the registration from Word/PDF must be received by the deadline of
23:59 PST, 29 January 2018
by email to program coordinators (
symposium@worldwoodday.org
). The title and the body of abstracts are limited to 400 words in total.
Topics are as follows :
Historical Utilization and Cultural Values
Traditional Knowledge, Innovations and Practices
Landscape and Biodiversity Conservation
Art, Design, Architecture and Music
International and Domestic Challenges
Wood and Environmental Education
Authors will be notified of acceptance of their papers for presentation at the joint conferences by
14 February 2018
. Please note that accepted paper and poster presenters will be exempt from the full registration package and the symposium organizers will provide 5 days accommodation only from 19th -23rd March. Please purchase the round trip air-tickets at your expense.
---
The 2018 World Wood Day Symposium and the 1st IUFRO Forest Products Culture Research Group Colloquium will convene in Cambodia from Wednesday, 21 March through Saturday, 24 March 2018. Questions regarding the symposium may be directed to:
symposium@worldwoodday.org
.
Download Application Form for International Woodcarving Show
Download Application Form for 2018 World Wood Day Symposium & The 1st Forest Products Culture Research Group Colloquium
Registration Types
Both successful and unsuccessful applicants are allowed to register as WWD (general) participant. A registration form will be sent along with the notification email. Participation is only confirmed upon receipt of completed registration form (and registration fee payment).
Your registration fee will be exempted as far as you agree to perform/present throughout the event period and attend all official activities as event organizers instruct/arrange.
If you wish to make use of this splendid networking opportunities, you are welcome to register as "General Participant" and join this grand celebration at your own cost.
Registration fee is USD $200 (early bird)/ 300 (regular) per person.
You can also choose to arrange your own trip and take part in the celebration as a visitor. Neither admission fee nor registration are required.
You should be either a family member, instructor, student or disciple of the person who registers for participation. Business partners or group members do not qualify as accompanying persons.
Registration fee is USD $120 (early bird) / 180 (regular) per person.
There is a maximum of 2 accompanying persons per participant, excluding young children below 7 years old who can sign up for free.
Registration Rates
Registration Type
Registration Fee Packages
Early Bird (in US dollars)
Regular (in US dollars)
Before Jan 31, 2018 (PST)
After Jan 31, 2018 (PST)
Program Participant
(Free)
(Free)
General Participant
$200
$300
Accompanying Person
$120
$180
Regardless of the registration type you fall into, please note that ALL entrants have to self- fund their accommodation, travel and other expenses. Estimated accommodation cost will be announced soon.
What Registration fee packages include
| Items | Program Participant | General Participant | Accompanying Person | Visitor (Free) |
| --- | --- | --- | --- | --- |
| Airport transfers to and from Siem Reap Airport | v | v | v | x |
| Local ground transportation for official activities | v | v | v | x |
| 6 lunches and 6 dinners from Mar 20 to 25, 2018 | v | v | v | x |
| Wood materials/space/time for performance and presentation | v | x | x | x |
| Free entry to all official activities | v | v | v | v |
| One arranged day tour | v | v | v | x |
| One souvenir pack | v | v | x | x |
| A Certificate of Participation | v | v | x | x |
This event schedule is subject to change without notice, please check regularly for updates.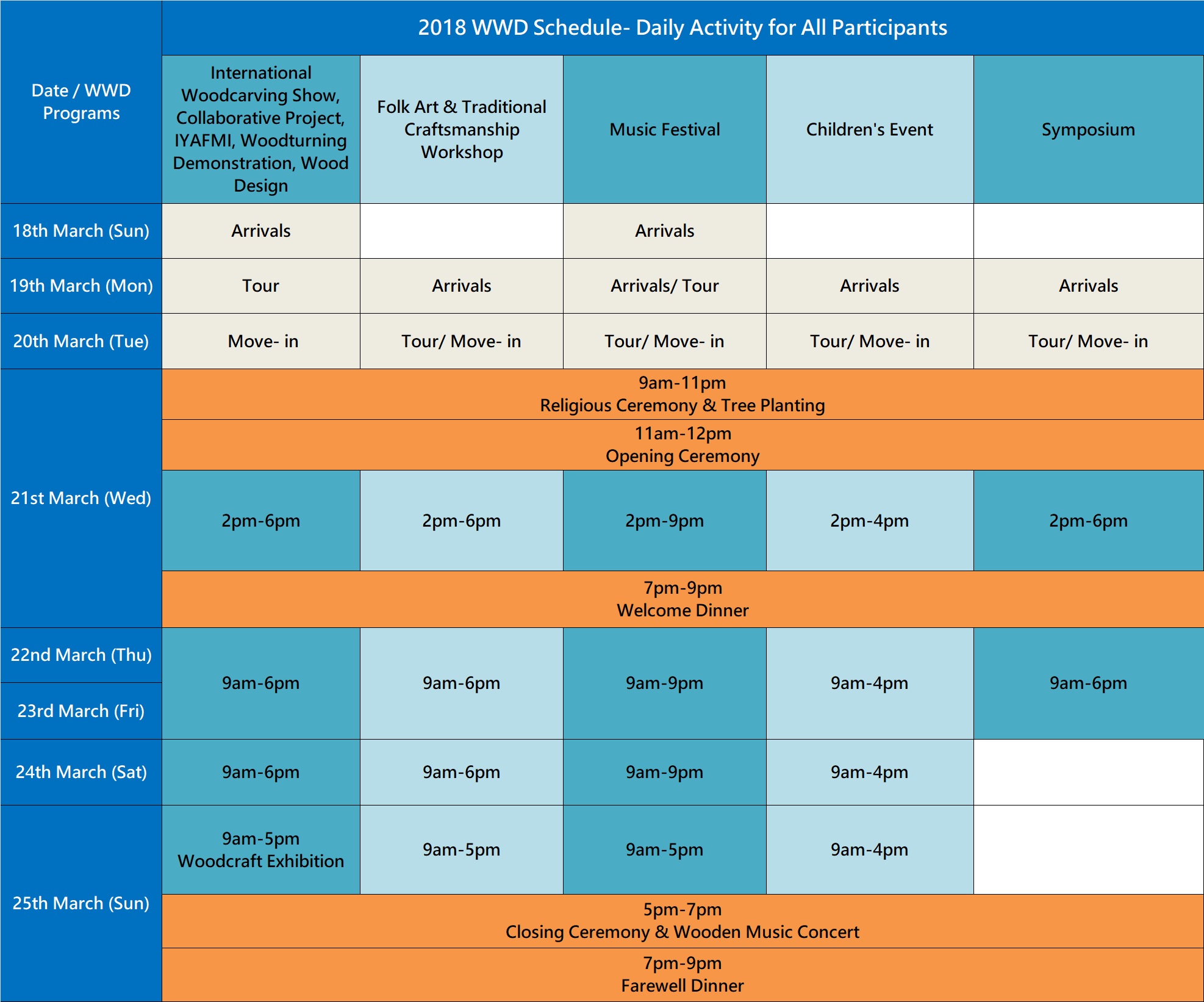 Program List
WWDF Research Grant, 2018-2019

The World Wood Day Foundation (WWDF) is pleased to announce that the Research Grant application is now open for the submission. WWDF invites applications from scholars and graduate students that focus on "Wood and Culture", a historical perspective is particularly encouraged to apply. Both ongoing projects and new initiatives are encouraged to apply. The proposals will be evaluated on their originality and scholarly excellence by a group of professionals from various disciplines.

For more information, please visit here

Symposium

Date

March 21-23

Theme

Wood for Life: Interdisciplinary Approaches to Sustainable Development & The 1st IUFRO Forest Products Culture Research Group Colloquium

2018 World Wood Day Symposium and the first IUFRO Forest Products Culture Research Group Colloquium jointly aim to encourage exchange of ideas, knowledge, and experiences derived from forest products related research, strategy and sustainable development. Focused topics are designed to raise awareness upon current issues facing the Greater Mekong Subregion and the world, and to enhance multidisciplinary discussions for the crucial role of wood and non-wood forest products in various cultures and sustainable development.

Topics

Historical Utilization and Cultural Values
Traditional Knowledge, Innovations and Practices
Landscape and Biodiversity Conservation
Art, Design, Architecture and Music
International and Domestic Challenges
Wood and Environmental Education

The 2018 World Wood Day Symposium provides an effective and influential platform for international delegates representing global institutions and organizations of research, education and industry with the multidisciplinary background.

The title and the body of abstracts are limited to 400 words in total. Due date for electronic submission of the speaker registration form Word/PDF is Monday, January 29th, by email to program coordinators (symposium@worldwoodday.org).

Collaborative Project

The Collaborative Project gathers international and local woodcraft artists to design a large-scale installation that best uses the local wood and reflects the circumstances. In around two weeks of time, Michael Cullen, the Program Manager of the 2018 Collaborative Project, is going to lead the entire team to come up with a spectacular design in Siem Reap, Cambodia.

International Woodcarving Show

The International Woodcarving Show has always been one of the highlights of World Wood Day celebration, which gathered numerous artisans from around the globe to showcase a wide range of creativity, formats and culture.

Each year a different theme was selected for the participants, during this intensive week-long period, the audience witnessed how a raw piece of wood can be created into an unique artwork. Through the art of woodcarving, people exchanged, merged and shared their passion and skills with each other despite various culture backgrounds.

2018 Woodcarving Show is going to aim on collaboration, most of our participants are going to work in a small group, while each of them has their own unique characteristics, a different approach might just spark creativity. The ultimate goal of the program is to rediscover how passion is shared beyond boundaries while creating a platform for like-minded people.

International Young Adult Furniture Making Invitational (IYAFMI)

As an element of WWD, the International Young Adult Furniture Making Invitational (IYAFMI) gives young adults (25-year-old or younger) from around the globe an arena to showcase their talent in designing and creating bespoke wooden items in both individual and collaborative spheres. Techniques are exchanged and learned, appreciation and understanding of different cultures and influences are fast tracked and strong bonds are formed amongst the Invitees.

The 2018 IYAFMI will comprise 4 Team Leaders selected from the first timers in the past year, 12 newcomers coming from all over the world along with 4 local invitees, all together to participate in both Individual and Collaborative Project.

The Individual Project is "to design and build a piece of furniture which best represents the lifestyle and culture of your place of origin," and the Collaborative Project "must be a piece of practical or multi-purpose furniture which can be used in everyday life."

Woodturning Demonstration

To continuously promote and popularize the woodturning craft, this year we will as always invite woodturning artists from all over the world to introduce and demonstrate the woodturning skills on the advanced electric lathes, the century-old traditional man-powered lathes, and the modernized treadle lathes.

The Woodturning Demonstration isn't merely a platform for woodturning artists to share and exchange skills, but a great opportunity for the public to learn more about the history of woodturning. Aside from the demonstration performed by the woodturning artists, audience is also able to experience woodturning craft under the guidance of the woodturning presenters.

Wood Design

Wood Design is an amalgamation of many different disciplines, all centered around a common starting point: wood and forest products. We are furniture makers, artists, and designers. The members of the wood design team all utilize this material as a problem solving tool, looking for new and unique ways to understand and manipulate it. Whether creating sculpture, functional objects, or architectural forms, the common goal is to explore the material's potential for addressing a variety of concerns such as environmental degradation, animal rights and habitats, political situations, access to resources, human comfort, beauty and much more. Wood design takes a contemporary look at a timeless material and asks, "what more can we do with this?". We are a wagon wheel of practices, with wood as the hub at the center. From that center, each of our various takes on the material emanates, and we are all bound together by our love for working and this wonderful family of materials.

Folk Art Workshop

Wooden folk art demonstrates the influence of wood and nature in our ordinary life and brings about extraordinary beauty. Infused with spirits and craftsmanship inherited from past generations, it lets us understand the value of tradition and thus, the importance of preserving our culture.

"Folk Art & Traditional Craftsmanship Workshop" is a special program emphasized on interactive activities designed for both adults and kids. Not only limited to hands-on workshops as the program name suggests, it also includes exhibitions, demonstrations and presentations in order to highlight the aesthetic and cultural values of each folk art. Folk art made of non-timber forest products are also introduced to further show the importance of nature to human beings.

We hope that the program can provide a window into folk art from around the world and inspire everyone to reflect on the benefits of wood in our life.

Music Festival

Music is always part of the fabric of everyday LIFE. 2018 World Wood Day Music Festival will present the finest musicians to perform various traditional music beyond borders. Musicians will have their vast collection of rare wooden musical instruments on display and the audience will be given the opportunity to interact with the musicians and instruments.

Please come check out the music festival at the 2018 World Wood Day and celebrate LIFE with all the finest musicians from around the world.

Children's Event

Wood plays a prominent role in our daily life and in a sustainable future. It is our duty to teach the young generation the responsible wood use. Therefore, wood education classes together with specially designed interactive exhibitions aimed to nurture a sense of respect and responsibility towards wood, forest and nature were brought to the 2018 World Wood Day Children event. These activities will pass our passion of wood to the our next generation, sowing the seed of love in wood into children's deep heart, and further nurture their interest in and appreciation of wood.

Tree Planting

During World Wood Day celebration, all participants will be invited to take part in this meaning activity to sow seeds for a greener future. WWDF and IWCS will sponsor 10,000 trees to be planted at the Russey Trep National Park, 500 of which will be planted during the 2018 WWD event near by Angkor Wat.

Photo Contest

As a reflection of the 2018 WWD theme "Life," the theme for the 2018 photo contest is "Wood and Life." The contest is divided into three categories, "People," "Heritage" and "Environment," to further elaborate the importance of wood being a part of our lives. We hope to encourage people to pay closer attention to their surroundings. Through these categories, we would like to remind the public the importance and true value of wood and its responsible uses in our lives.

All three categories began on November 20, 2017 and ends on February 20, 2018. The results will be determined by a jury panel (80%) and public voting (20%) and winners will be announced on February 23, 2018.

​For more information, please visit http://worldwoodday.org/2018photocontest.php​